Wood Deck Refinishing:
Our Painters in Spokane have the knowledge, experience and determination to restore your wood deck back to it's original glory. The harsh winter climate in Spokane can reak havoc on your deck and if it is not stained and sealed properly you might end up needing to replace the whole deck.
We only use quality wood stains and sealants from Sherwin Williams and Rodda Paint stores. These Deck Products are designed to stain and seal your deck from the elements and make that natural wood beauty last as long as possible.
A new redwood or cedar deck can bring beauty and value to your home and lack of maintenance can lose value. All exterior wood surfaces require maintenance, and protection. Wood decks require the most maintenance as they are in direct contact with the weather unlike wood siding that has an eve over it. Protect your wood deck with our fine wood staining and sealing products and services.
Restoring a Wood Deck might involve the following depending on your situation:
Cleaning : Surfaces must be cleaned of any dust, mold, mildew or peeling paint. We Will clean your deck with either a low or high pressure wash depending on the condition of the wood.
Restoration : This might include heavy or light sanding either by hand or with power sanders. This also depends on the condition of the wood and the look we are trying to achieve.
Waterproofing and Sealing : Continuous cycles of wet and dry cause wood to swell and shrink repeatedly. This leads to cracking, warping, splitting. A coat of stain and sealant can slow this process and make the beauty of your wood deck last much longer.
Our Recommendation
You have choice when you hire someone to stain or re-finish your wood decks. Call the Spokane Painting Pros when you want the job done right. We stand behind all of our work and have home maintenance packages available for those who want to stay on top of it!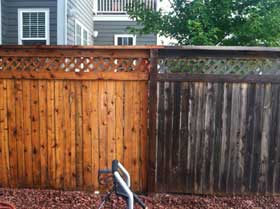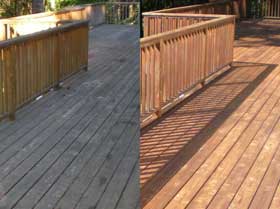 Our Deck was in horrible shape and the Spokane Painting Pros made it look like new again. They Presure washed the deck and then sanded certain areas that needed it. After the prep work they applied Sherwin Williams Deckscapes product and the results were amazing!

Sandy Hammerst

5
5